Lossless Video over IP solution in the OR of the Future
08.07.2019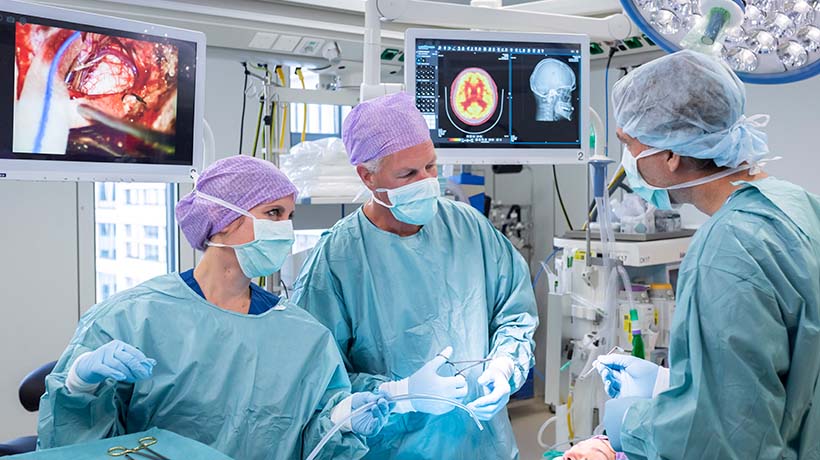 Lossless Video over IP solution in the OR of the Future at the Erasmus University Hospital Rotterdam, The Netherlands
Breda, Netherlands, 9th July 2019 — Advantech, a leading player in the intelligent Healthcare market is happy to announce the implementation of a complete video-over-IP streaming solution. This has been realized by co-working together with INTER Forward Solutions, a System Integrator for realizing these and other software installations in the hospital.
The Erasmus University Hospital in Rotterdam is the largest and most prestigious hospital in the Netherlands. A completely new building containing 26 new operating rooms was planned alongside modern and upgraded facilities for other areas of the large complex. The hospital decided to modernize the workflow and reduce the amount of paper, posters and other analogue systems that were previously in use. The goal was to have a comprehensive, digital, smart and integrated way of working for the staff in the new operating rooms. For this to be realized, an innovative technology was needed: FHD video from operating tools would not only have to be streamed with no latency or lossless image quality to any surgical display but should also be capable of being switched seamlessly. Advantech successfully solved these copious requirements together with INTER and SigmaXG with an exemplary co-creation solution.
The Operating Room of the Future
By Co-working together with INTER, who is specialized in multimedia video-over-IP streaming software, a complete solution could be offered to the hospital. The AVAS NDcoders that encode and decode the video streams up until 4K resolution were created together with SigmaXG and are based on the technology of Technolution. These were directly integrated into the Advantech PAX surgical displays. This not only saves energy and space, but also reduces the complexity of the system and facilitates the installation. The surgical displays of Advantech realize an accurate image representation of the source with no latency, simplifying and improving the quality of work for the doctors and staff in the operating room. Additionally, several all-in-one computers were used to control and interact with staff in and outside the operating room. This enables an infection-free operating process. The door movement counting together with an intercom and multimedia system that integrates external streaming, makes the IoT hospital reality. The ORflow dashboard by INTER additionally allows staff to prepare with a meeting before an operation and add different applications into the workflow while keeping track of tasks during the operation. Recording and streaming sessions is also realized with the software by INTER.
Summary of the Benefits - Near Zero Latency Video Streaming
Smart Navigation functionality with Mouse-Thru and Touch-Thru
Surgical-Grade image / video quality
Up until 4K UHD lossless streaming (in this example FHD is being used)
Increased efficiency in the operating room
Integrated multimedia and app-integration solution by INTER
Integrated NDcoder into the surgical screens (PAX with AVAS all-in-one)
Medical Grade Quality
The 24" Surgical Monitor (PAX-324) with the included Advantech Video Archiving & Streaming solution (AVAS-212) was especially designed for the Erasmus project. The AVAS supports real-time image and video streaming, centralized control, remote teaching and consultation and cloud-based management in order to streamline operating room workflows and improve overall efficiency. Now Advantech offers this product combination with a software bundle pack from INTER. To obtain more information regarding this PAX-324 All-in-One or other Advantech iHealthcare products and solutions, contact your local sales representative or visit the Advantech website at:
www.advantech.eu/solutions/ihealthcare