Advantech Launches UTC Series Optical Fingerprint Readers for Fast, High-Quality Fingerprint Scanning
27.12.2017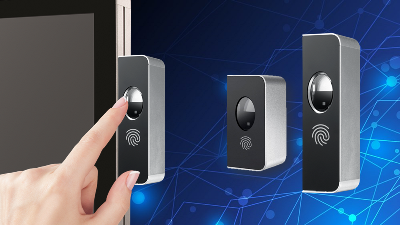 December, 2017 (Taipei,Taiwan) – Advantech, a leading provider of industrial computing platforms and solutions, is pleased to introduce a new range of optical fingerprint readers for its UTC series of all-in-one touch computers.

Advantech's UTC series fingerprint readers offer large capture areas, excellent image quality, and rapid capture speeds in a compact and durable device. Featuring a silicone membrane, UTC fingerprint readers provide superior image capture performance for a wide range of fingerprints. The provision of easy, efficient, and high-quality fingerprint capture capabilities makes UTC fingerprint readers the preferred biometric solution for a wide range of industrial and commercial applications, such as self-check-in, self-payment, access control, or visitor management operations.
Easy to Integrate and Use
Connected via USB, UTC fingerprint readers are designed to be easily integrated with Advantech's UTC series of all-in-one touch computers. Using a simple bracket, these readers can be mounted on UTC computers to prevent unintentional movement. The small form factor makes these readers ideal for space-constrained environments, such as table tops, while the rugged design ensures they can withstand high-use applications and installation in unattended public areas. For visibility, the scanning window is illuminated with a blue LED. The blue light emitted is soft enough for even low-light environments.
Efficient and Secure Fingerprint Scanning
Advantech's UTC fingerprint readers offer high-quality optics that ensure premium-quality images with a pixel resolution of 512 DPI every time. The silicone layer enables accurate scanning of dry, moist, or rough fingerprints regardless of placement angle. Additionally, to facilitate fraud detection, UTC fingerprint readers are equipped with counterfeit finger and latent print detection technologies. Moreover, UTC fingerprint readers feature superior ESD resistance and rotational invariance to satisfy international certification requirements.
Scan capture area of 14.6 mm (nom. width at center) 18.1 mm (nom. length)

Pixel resolution of 512 DPI (average x, y over the scan area)

8-bit grayscale (256 levels of gray)•ESD susceptibility >15 kV, mounted in case

Wide operating temperature range (0 ~ 40 °C/32 ~ 104 °F)

Compatible with USB 1.0, 1.1, and 2.0 (Full Speed) specifications

UTC Fingerprint Reader Models for UTC Series Touch Computers
UTC-P09 for UTC-515/520/532

UTC-510P-F for UTC-510

UTC-542P-F for UTC-542

Advantech's UTC fingerprint readers will be available for order by Jan 2018.
For more information about this or other Advantech products, contact your local sales support team or visit our website at www.advantech.com.