Advantech to supply edge nodes for RealityCheck AD, a new system from Reality AI
15.09.2021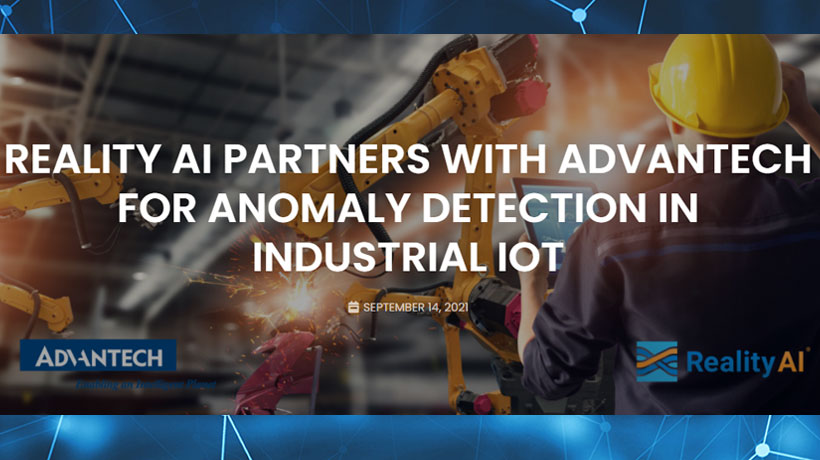 September 20, 2021, Maryland - Reality AI today announced its partnership with Advantech, a leading brand in IoT intelligent systems, Industry 4.0, machine automation, embedding computing, and embedded systems, as primary supplier of edge nodes for RealityCheck AD. Announced last week, RealityCheck AD is an anomaly detection solution for factory settings that automatically learns normal behavior of machines and reports on abnormalities. Customers can use RealityCheck AD to find patterns in idle time, automatically discover mechanical causes, and predict remaining useful life of components. It can also be used for end-of-line quality control testing, spotting abnormalities in product function and specific defects
The pre-configured edge node supplied with RealityCheck AD is manufactured by Advantech to Reality AI's specifications, and pre-loaded with Reality AI firmware. Once a node is registered and initialized, it will automatically learn normal patterns of equipment (or normal test results for quality control or end-of-line testing) and begin reporting anomalies both to Reality AI software and to other factory systems that subscribe to the data over MQTT. RealityCheck AD edge nodes can be managed remotely, and come with options for wired ethernet, Wi-Fi and cellular connectivity. Other wireless protocol options are coming in future releases.
Power users will also be able to access both baseline and anomaly data in Reality AI Tools® software -- a cloud based environment for creating advanced classification, regression and anomaly detection models from non-visual sensor data. RealityCheck AD also contains APIs for integration into dashboards, manufacturing information systems, and workflow systems.
"Transformation at the edge is required for businesses to optimize and monetize their business workflows. The partnership with Reality AI is exciting as we can leverage market-leading edge units and IoT gateways, and bundle them with Reality AI software and services" said Shawn Jack, Associate Vice President of Sales and Partnership Alliances at Advantech. "Our industrial customers are looking for solutions that help run their businesses more efficiently and effective. The RealityCheck AD can support our clients with their advanced manufacturing initiatives."
"Advantech is the perfect partner for Reality AI as we roll out RealityCheck AD," said Stuart Feffer, CEO at Reality AI. "They are a leading provider of industrial-strength edge computing devices, and give us a great deal of power in a compact package."
RealityCheck AD, featuring edge nodes from Advantech, is now available in beta to select customers, with full release coming January 2022.