Strengthening Chile's National Defense
01.10.2018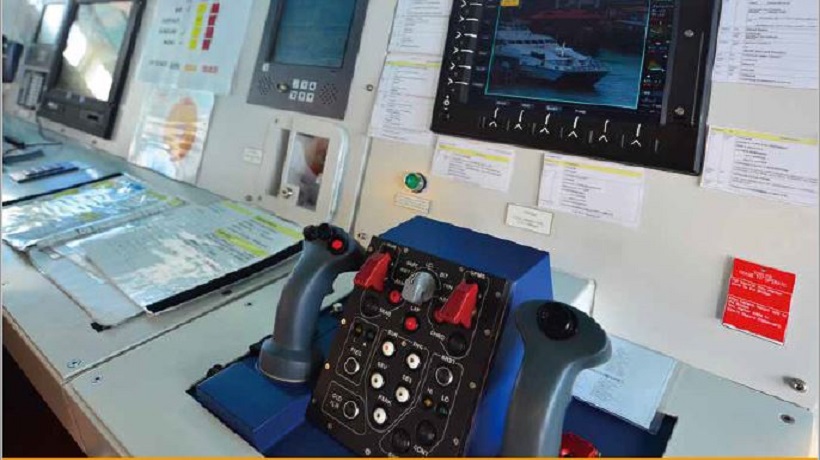 Strengthening Chile's National Defense
Because national defense and military security operations cannot tolerate even the slightest error, strict standards are required for devices that are installed in naval ships, tanks and other military vehicles. Moreover, communication systems must maintain continuous connectivity and function normally under all adverse conditions.

By Chen, Yu-Feng with images provided by Advantech
Interview with Jose Miguel,Telecommunications Projects Engineer of SISDEF
In relat ion to nat ional defense appl icat ions, communication systems can be regarded as the central nervous system, responsible for directing various operations at each node. Similarly, ICS-DAS, an integrated communication system developed by SISDEF, can support a command center with internal and external communications. Several versions of ICS-DAS have been developed for diverse installation, for example, in a command center, naval ship or aircraft. Notably, the Mobile Data TErminal (MDT) adopted by ICS-DAS is none other than Advantech's TREK-753.
Since its establishment in 1983, SISDEF has been developing and providing integrated communication systems to national defense, military security, and industrial markets, and has become a leading supplier of command/control systems and system integration throughout the entire Latin American market. All national defense institutions in Chile have adopted the SISDEF integrated communication system. In addition, four other Latin American countries have also adopted SISDEF communication systems.

SISDEF headquarters is located in Quintero, a coastal city in Chile, with its regional offices distributed in Santiago, Antofagasta, Valparaiso and Talcahuano. Additionally, a branch office has also been established in Mexico City. Of SISDEF shares, 90% are held by naval shipbuilding and ship maintenance companies in Chile, while the remaining 10% are held by SISDEF itself. All SISDEF's standard operating procedures have passed ISO 900:2008 standards.
Since the beginning of 2010, ICS-DAS has been adopted by the Chilean and Columbian government for national defense, government, and military security applications. Jose Miguel from SISDEF said, "The first challenge when building communication systems is enabling the device (remote terminal) to process vocal messages from both internal and external communication systems." Such telecommunication devices include Satcom, U/VHF, HF, IP, PABX, public announcement systems, mobile phones, and cellular networks.
TREK-753 Serves as the Core Device for Stable Operations
Because ICS-DAS uses a single device to operate and manage all communications, the remote device must be able to receive and deliver messages from internal and external communication systems. ICS-DAS also features the capacity to store all input/output communication by transforming radio waves into digital backups to enable replays as required.
To satisfy usage demands, SISDEF adopted Advantech's TREK-753 Mobile Data Terminal (MDT) as the core device for its ICS-DAS. TREK-753 is a multifunctional MDT equipped with a 7-inch touchcont rol led LCD screen. Miguel reasoned that , "Advantech's components protect our telecommunication devices from electromagnetic disruption when connected to a power supply."
TREK-753 is designed to allow stable operation even with power fluctuations and telecommunication interruptions. Moreover, the MDT functions on a 12V/24V power system, can be operated from 6V to 36V, and is compliant with ISO7637-2 and SAE J1113. TREK- 753 not only tolerates a wide voltage range, but also uses intelligent software to overcome unstable power conditions. Furthermore, for vehicle environments where temperatures can soar or drop drastically, TREK- 753 supports an operating temperature of -30 to 60 °C. Because all devices installed in an ICS-DAS system must meet IP54 standards and MIL-STD-810 specifications (verified through environmental engineering and laboratory testing), Advantech developed TREK-753 to meet or even exceed the industry-required specifications.
Miguel further highlighted that, "Advantech's products provide substantial enhancement and a long Mean Time Between Failure (MTBF), making our system more stable than ever." Because these products are installed in mobile vehicles such as naval ships, they must be capable of reliable operation despite long-term exposure to vibration and movement. In fact, in the year since Advantech's TREK-753 MDTs have been integrated into ICS-DAS systems, no malfunctions or incidents have been reported. To date, more than 20 TREK-753 units have been integrated with the ICS-DAS system. With the establishment of a long-term, cooperative relationship between SISDEF and Advantech, public demand for the product is expected to continue to increase in the future.
Technological Support Provides Advantages and Competitiveness
From the beginning of 2010, SISDEF has integrated Advantech products and technologies into its company solutions. "By leveraging this long-term, collaborative relationship, as well as Advantech's excellent products, technological support, and software integrations, our system efficiency has improved significantly," said Miguel regarding the benefits of collaborating with Advantech. "Additionally, because Advantech producesmany types of products, we can select the most cost efficient solution based on our budget, thereby effectively reducing overall costs while significantly increasing turnover rates."
Because of Advantech's knowledge and understanding of vertical industries and local market trends, SISDEF can better operate and expand its business. Miguel stated, "We can now provide our customers with solutions that offer superior efficiency, quality, value, and competitiveness. By cooperating with Advantech, our customer satisfaction has improved significantly."
After initiating sales, market demand for ICS-DAS has steadily and sustainably increased. By enhancing system functions and adopting new technologies, SISDEF has continued to meet customer demands. Miguel asserted, "Advantech is a solid partner who works with us through the entire process. We can now develop innovative solutions with more cost-efficient approaches, helping us achieve success in a highly competitive market."