Munich Airport Intelligent Transportation Optimizes Fleet Dispatch
01.10.2018
Munich Airport Intelligent Transportation Optimizes Fleet Dispatch
In 2013, Germany's Munich Airport implemented Advantech's fleet scheduling system and TREK-550 industrialin-vehicle computer terminals to optimize fleet dispatch operations and resolve passenger shuttle busscheduling problems.

Writer | Liao, Pei-Chun
Interviewee | Van Lin, Director, Advantech Digital Logistics & Fleet Management Sector
Germany's Munich Airport started operations in 1992, and currently boasts the second highest passenger volume of all airports in Germany. The passenger throughput for Munich Airport is more than 38 million people per year, second only to Frankfurt Airport. However, because of the high aircraft take-off and landing volumes, the number of aircraft parking spots and jet bridges soon became insufficient. Consequently, an additional apron was constructed outside Terminal 1, and shuttle buses were employed to transport passengers to the apron for boarding.
Because of the spike in passenger numbers typically experienced during public holidays, the number of buses shuttling passengers between terminals, boarding gates, and aprons can be insufficient for the passenger volumes. This frequently results in passengers being unable to board a shuttle bus and having to wait for the next bus, or no shuttle buses being available for passengers with eminent boarding times.
To resolve these issues, in 2013, a fleet scheduling system was implemented at Munich Airport, and Advantech's TREK-550 in-vehicle computer terminals were installed in every shuttle bus. The scheduling system is used to establish the optimum route for each shuttle bus every day, and the in-vehicle computers are used to communicate with the control center via radio transmissions, thus significantly increasing vehicle scheduling efficiency.

Implementing TREK-550 for Vehicle Management
Optimization Van Lin, Director of Advantech's Digital Logistics & Fleet Management Sector said that before implementing TREK-550, Munich Airport encountered substantial difficulties with dispatching passenger shuttle buses. This affected the service quality provided, as well as flight takeoffs and landings, which subsequently impacted the overall airport operations. Slow passenger boarding delays flight takeoffs, which extends the time until the aircraft parking bay is clear, thereby preventing incoming aircrafts from parking.
To resolve such problems, most people would consider purchasing supplementary shuttle buses or hiring additional drivers. However, because airport operations must emphasize efficiency and costs, procuring IT equipment to improve vehicle dispatch efficiency is actually the more cost-effective strategy compared to purchasing shuttle buses or hiring drivers.
In the past, the control center was only able to track vehicle locations. The passenger transportation status of the vehicles could not be determined because the old system was only equipped with GPS. In the event that a shuttle was dispatched in an emergency, the control center personnel had to rely on handheld transceivers to communicate with drivers. Currently, since the implementation of TREK-550, airport staff can communicate using information technology, which not only saves time, but also increases efficiency and optimizes vehicle scheduling management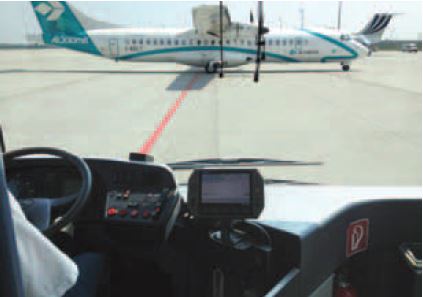 In addition, because TREK-550 supports dual monitor displays, one monitor can be installed in the shuttle buses in front of the driver, and used to display the planned route and target terminal arrival times. Meanwhile, the other monitor can be installed in the passenger waiting area for displaying flight information. This satisfies the information requirements of both drivers and passengers. Lin stated that this feature was one of the reasons why Advantech products were selected for Munich Airport. The other two reasons were as follows: First, high product reliability and quality; and second, Advantech has service centers all over the world and can replicate the system implementation at other airports.
Advantech's Extensive In-Vehicle Product Lines Enable Intelligent Airport Transportation
Besides passenger shuttle buses, airports also feature other types of transport vehicles, such as fuel and water trucks, baggage trucks, and forklifts. These airport vehicles are only operated following the receipt of dispatch orders from the control center, and their applications differ.
Lin asserted that the emphasis for fuel and water trucks is dispatch efficiency. Considering the high volume of flights and limited aircraft parking time, fuel and water truck-related tasks must be completed quickly. Therefore, the fleet dispatch logic must be clear to ensure optimal management, which includes scheduling flight arrival times, tarmac assignments, and a sufficient number of refueling vehicles. These factors must be considered when scheduling because large aircrafts may require two or three fuel and water refueling trucks, but only one truck can service a plane at a time. Therefore, the second and third trucks should only be dispatched after the first truck has completed its refueling operations, rather than waiting by the side of the plane until the first truck to finish. Hence, dispatching information is extremely important. The purpose of baggage trucks is similar to that of fuel and water trucks, except that baggage trucks also feature a barcode reader to ensure that passenger luggage is transported accurately.
Warehouse forklift trucks are typically equipped with radio frequency identification (RFID) technology for accurate baggage handling. Storage racks are also equipped with RFID tags, and the forklift in-vehicle computers are integrated with RFID readers. Thus, when collecting and delivering baggage, drivers can use the RFID reader to scan RFID tags to ensure the correct cargo is retrieved. After baggage is correctly identified, the system informs the driver of the destination aircraft and its location.
The various applications and vehicle types result in differing requirements for in-vehicle computers. For example, because baggage trucks are typically roofless, the in-vehicle computer must be waterproof and equipped with a sunlight readable monitor. Lin emphasized that Advantech's comprehensive range of in-vehicle computers feature a wide operating temperature, stable power, wireless communication (supports Wi-Fi, 3G, and 4G LTE), and GPS to satisfy various airport fleet management requirements and facilitate the establishment of intelligent airports based on transportation fleet information.