Brilliant in Every Field Advantech-DLoG: A Great Manufacturing Asset for Egger
01.10.2018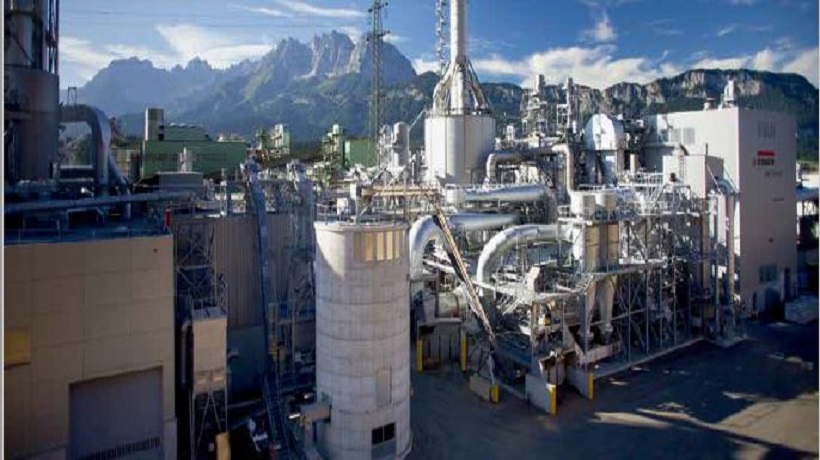 Brilliant in Every Field Advantech-DLoG: A Great Manufacturing Asset for Egger
The German-based wood panel manufacturing company Fritz Egger GmbH & Co. OG, replaced their traditional computers that had low impact resistance and high failure rates with Advantech- DLoG's sturdy tablet computers, which not only enhanced support for Egger's manufacturing production lines and package controls, but also improved production efficiency for the company's panels.

By Chen, Yu-feng with images provided by Advantech
Intrview with Gunther wallinger,Fritz Egger GmbH & Co. OG
In today's world where computers are ubiquitous, all businesses have experienced computer shutdowns at one time or another. But for manufacturing industries, computer shutdowns can not only disrupt production lines, but also waste valuable time, deplete human resources, and raise production costs due to subsequent maintenance, repair and mechanical restoration. Frequent computer shutdowns can even lead to postponed deliveries, which not only affects business credibility but also incurs huge financial losses. There are several reasons behind computer shutdowns, so businesses must maintain their hardware regularly. But if shutdowns are still too frequent they may need to consider drastic remedial action.
Eliminating Frequent Computer Shutdowns
Fritz Egger GmbH & Co. OG, are a well renowned manufacturer of wood-based panels; they have 16 factories in Austria, Germany, UK, France, Russia, and Romania. They introduced the HYDRA manufacturing execution system (MES) into their factories more than 15 years ago. By digitizing production documents, all production lines and regional factories can easily be supervised. However, since the original computer systems went down frequently, both production line workers and managers were constantly delayed, which cost the company valuable time and money.
Because the computers in Egger's wood panel manufacturing factories operate in a harsh environment with a lot of dust, heat and vibration, computers must resist temperature fluctuations, tolerate a great amount of dust and debris generated from the manufacturing process, and withstand constant impacts. But it was not until the original computers started exhibiting frequent shutdowns that disrupted the entire production line did the company finally decide to replace all its old computers with new and sturdy industrial computers. At that time, the company had great difficulty finding an industrial computer that met their needs. Not until the company tested Advantech-DLoG computers did they find a solution that eliminated the frequent shutdowns.
According to Advantech-DLoG Project Manager Richard Rieger, back in 2006 it was almost impossible to get hold of an industrial computer like Advantech-DLoG's MPC6, which not only operates well under harsh working environments, but also meets all of Egger's ADC/MDC specifications. Since the MPC6 has a touch interface, it was easy for Egger workers to familiarize themselves with operations, without the need for further training. MPC6 industrial computers not only meet the demands of Egger's managers, but also those of on-site operating personnel.
New Product Captivates Customer Hearts
Over the years, Egger has integrated several Advantech-DLog products into its factories and has recently added DLT-V83 tablet computers. According to Egger's Project Manager Gunther Wallinger, "Advantech- DLoG has been our long-term partner, and they are wellrenowned for their robust industrial computer products. Ultimately it was a no-brainer to introduce DLT-V83 machines into our factories."
The super-sturdy DLT-V83 tablet is used on their automatic production lines where it is accessed by both management and workforce. The built-in Intel® Core™ i5-4300U processing unit is equipped with the latest OS, and its excellent computing capacity supports Egger's HYDRA system. In addition to extreme temperature resistance and fanless design, the DLT-V83 also boasts IP66 waterproof and anti-dust protection, which means that the DLT-V83 can soldier on even when faced with temperature fluctuations and showers of foreign matter. Meeting 5M3 standards, the product resists vibration and impact levels three times higher than those tolerated by its military-grade counterparts. The resistant and reliable touch screens tolerate high levels of wear and tear, and users can easily select functions even with protective gloves on.
DTL-V83 tablet computers were installed not only in the Egger production line as a communication platform between the operator and the MES system, but were also adopted by the logistics department for shipping control. Workers operating on the production lines can easily log-in or out to perform their everyday tasks, while managers can monitor order processing and machinery operation status. Through DTL-V83's scanning functions, the logistics department can also monitor product inflow and outflow, with lots of information being recorded to maintain product traceability. Furthermore, if items or quantity errors arise they are quickly corrected at an early stage, well before product delivery.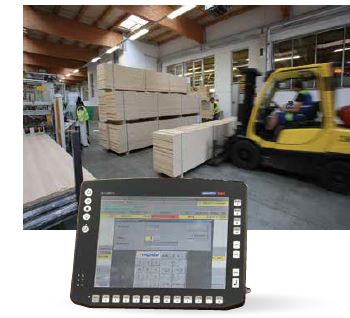 Excellent Product and After-Sale Service
Unlike a typical tablet computer, DTL-V83 has a bold, sturdy design with anti-vibration, anti-scratching, shatterproof, waterproof, and dustproof features. In addition to providing DTL-V83 and other products, Advantech-DLoG also offers Egger unsurpassed aftersale services. Having passed the tests, the same solutions will be rolled out to other Egger factories to fully realize the goals of transparent management and improved production efficiency.