【Vehicle-Mounted Terminals for Smart Warehousing】Tsingtao Brewery
20.12.2017
Applied Product: Advantech-DLoG XMT 5 RISC series
Tsingtao Brewery adopted Advantech DLoG's XMT 5 rugged, RISC-based vehicle-mounted terminals for installation on warehouse forklifts to facilitate smart inbound/outbound goods management. In the summer months, beer sales increase dramatically, making beer a fast-moving consumer good that necessitates rapid and efficient transportation. Accordingly, the forklifts used to transport beer crates must be operated at optimal efficiency.

Without a mobile data terminal, drivers are responsible for determining the number of crates to move, destination shelf location, and optimal route based on their previous experience. However, manual estimation is inaccurate and typically results in over- or under-estimated product amounts and unnecessary detours, substantially reducing operational efficiency and delaying delivery. Additionally, when stored for long durations, beer products tend to deteriorate, resulting in corporate losses due to wastage. Therefore, in order to deal with increasing product demands, Tsingtao Brewery contacted Advantech DLoG for assistance with implementing smart warehousing.
Advantech DLoG's XMT 5 rugged, RISC-based vehicle-mounted terminals offer safe and stable performance, as well as 360° water and dust resistance, and shock and vibration tolerance to withstand harsh environments. Moreover, according to feedback from factories, XMT 5 has an extremely low repair rate.
Regarding connectivity, the XMT-5 terminal is equipped with an integrated antenna for real-time data transmissions between front- and back-end systems. This enables the back-end system to be used to dispatch front-end forklifts in real-time. Upon receiving a specific instruction to "move x number of crates to location y," the XMT-5's built-in GPS technology quickly optimizes the transport route to effectively reduce transportation time and cost. Furthermore, the use of vehicle-mounted terminals eliminates paper-based order picking and processing, drastically improving operational efficiency.

Advantech-DLoG XMT 5 RISC series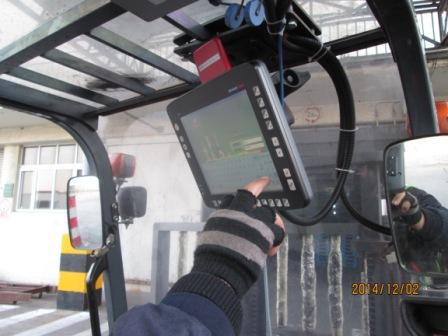 Because of its large inventory and extensive transportation needs, the Tsingtao Brewery warehouse features a semi-outdoor design. This means all warehouse equipment is subjected to frequent switching between outdoor and indoor environments, placing a high toll on the hardware. Advantech DLoG's XMT 5 terminal supports a wide operating temperature range (-30 ~ 50 °C/-22 ~ 122 °F), enabling it to withstand indoor/outdoor temperature fluctuations. Moreover, the integrated antenna ensures rapid switching between indoor/outdoor wireless signals, ensuring reliable connectivity.
Advantech DLoG's XMT 5 rugged, RISC-based vehicle-mounted terminal enabled Tsingtao Brewery to realize smart warehousing through the informatization, digitalization, and intelligentization of warehouse processing.